Leisure Facilities
Spending the summer holidays at the leisure centre
The Municipal Leisure Centre and the Teenager's room are open to children from 3 years old (in school) to 17 years old.
It is authorised by the Departmental Directorate of Youth and Sports and refers to the quality charter for leisure centres.
The children and teenagers of the municipality of Descartes have priority. However, children and teenagers from other communes can be registered within the limit of available places.

Many varied activities are proposed to them, while respecting their rhythm of life, in the best conditions of emotional and physical safety. They can propose and choose among the activities adapted to their age and their needs those which interest them the most.older children can discover and practice physical and sports activities...
Objectives
Empowering the child to be responsible for others and the environment
Fostering the child's autonomy
Enabling learning to live in the community
To arouse new interests in the child
Enhancing the child's physical and intellectual abilities
Summer 2020 program
Leisure Center "La Chartrie"
21 bis Avenue Fr. Mitterrand
37160 Descartes

☎️ +33 2 47 92 93 77 | +33 6 48 34 05 98
📩 alsh.descartes@lochessudtouraine.com
---
The Teen Room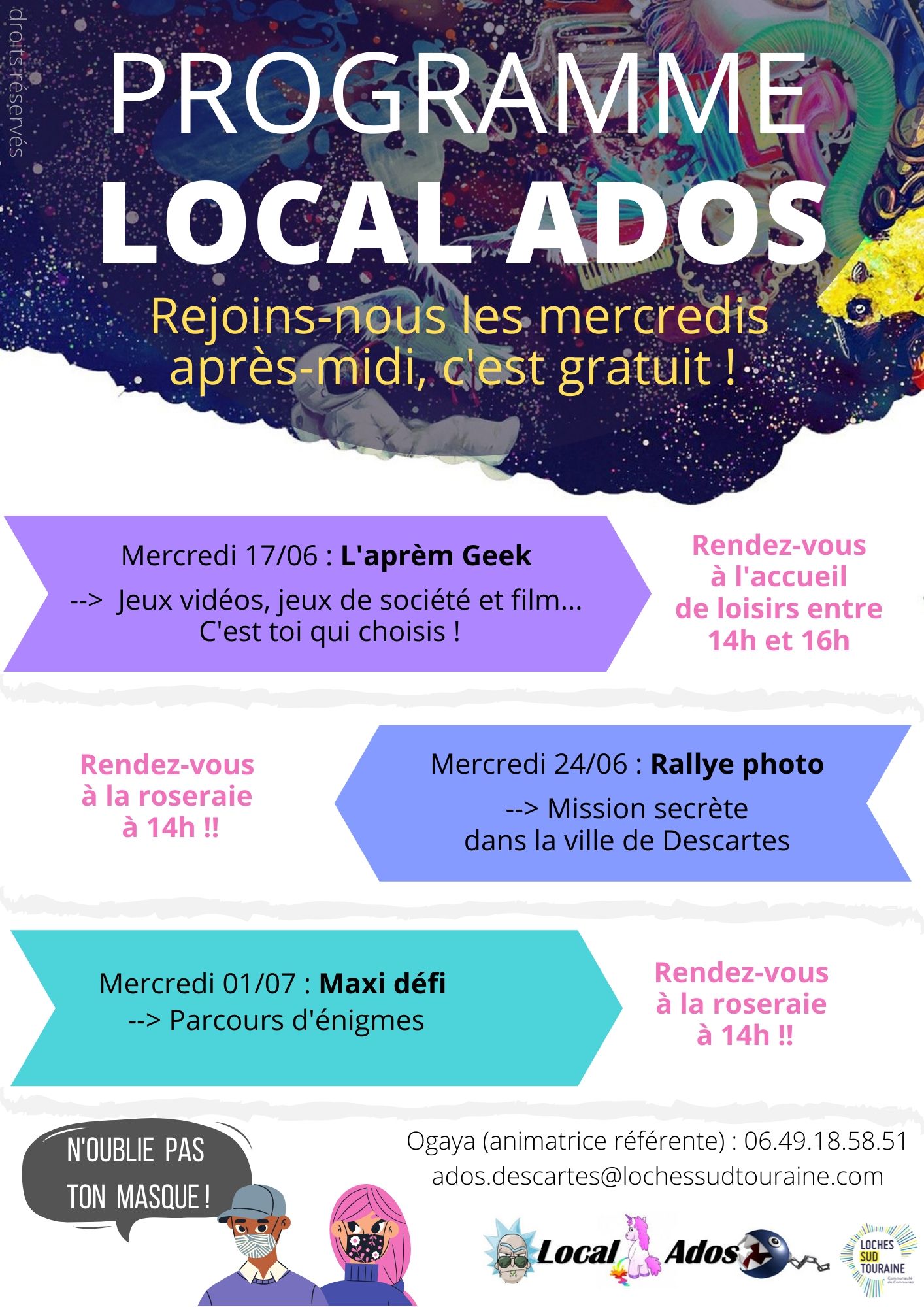 The teenagers' room is a place of exchange and sharing, which welcomes all young people born between 2003 and 2008.
It is open on Wednesday afternoons, from 2 pm to 4 pm at the "meeting point" listed on the Wednesday programme, then until 6.30 pm at the reception desk, to take advantage of the facilities, meet up with friends or chat with the activity leaders.
On Wednesdays during school time, it is also possible to be picked up at the Descartes secondary school at 12.20pm by an animator from the Local and to eat at the Loisirs reception desk.
During the school holidays, the Local is open and various activities are proposed according to the theme of the week and the desires of teenagers.
Throughout the year, the young people are accompanied by the animators to become actors of their local, they choose together their activities and participate in their implementation.
They are also free to participate and/or set up bigger projects (events, holidays, ...).
The Local Ados also has, to relay information and keep in touch with young people:
It should be noted that during this particular period linked to the health crisis, facilitators are adapting.
In order to remain present with all the young people who cannot attend the activities proposed by the local community, all the youth leaders of the community of communes have joined together on Discord (a free exchange software) and many young people are already active there.
On Discord, young people can follow many different activities from their homes, ask for advice or simply chat with a large community of young people, all of which are monitored and supervised by the facilitators.
How and why join our Discord CCLST server 👇🏻
The teen room
21 bis Avenue Fr. Mitterrand
37160 Descartes
Teen Referral Facilitator: Ogaya
☎️ 33 2 47 92 93 77 | +33 6 49 18 58 51
📩 ados.descartes@lochessudtouraine.com